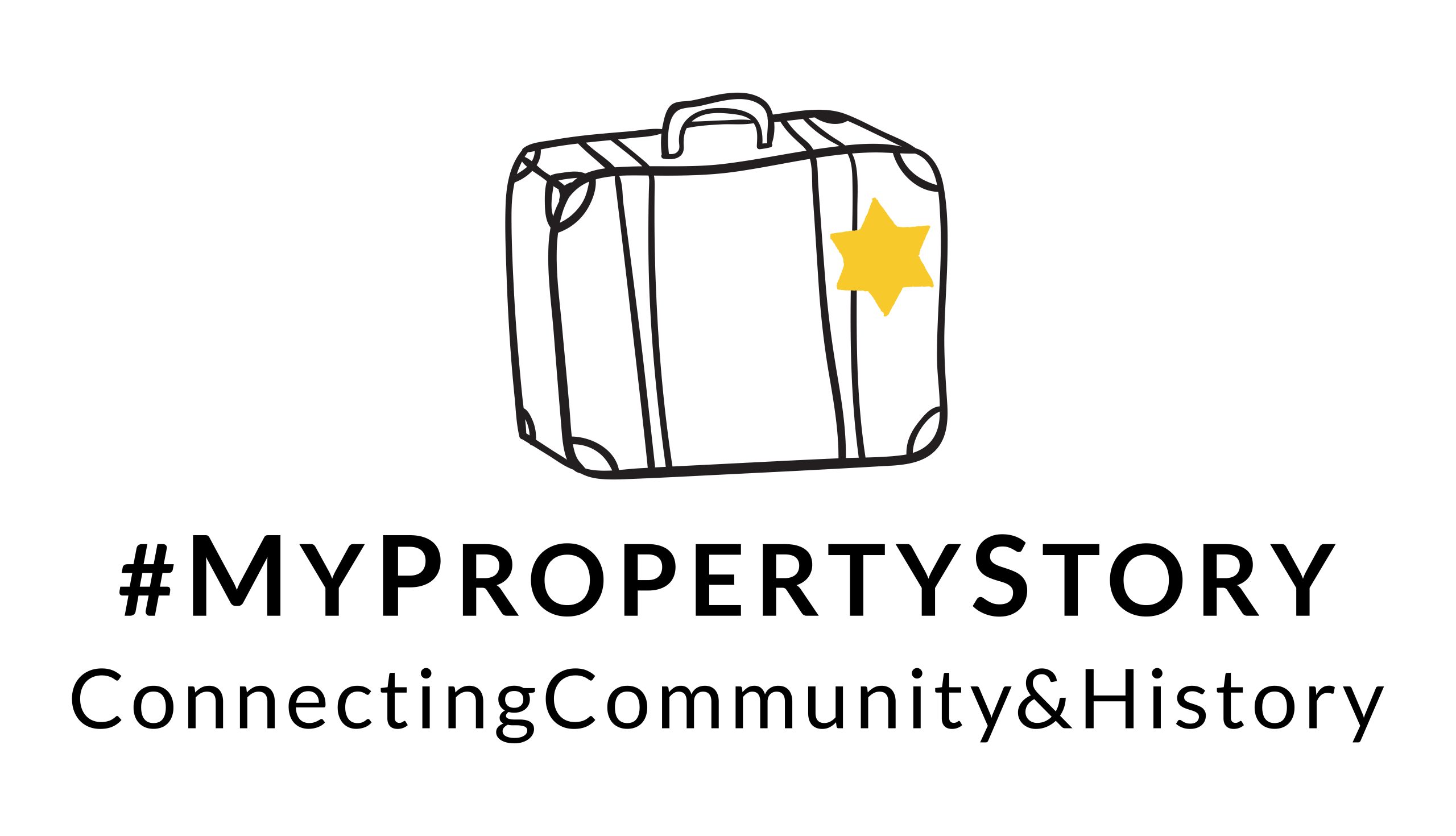 WORLD JEWISH RESTITUTION ORGANIZATION (WJRO) LAUNCHES FOURTH ANNUAL SOCIAL MEDIA CAMPAIGN – #MyPropertyStory: CONNECTING COMMUNITY & HISTORY – BEHIND EVERY PROPERTY THERE IS A STORY
Campaign highlights recent community property success stories while encouraging others to share their own stories to shine a light on the unprecedented theft of property from Jewish people and communities during the Shoah and its aftermath
 (New York, NY) January 27, 2023: To coincide with International Holocaust Remembrance Day today, the World Jewish Restitution Organization (WJRO) launched the fourth annual social media campaign, #MyPropertyStory: Connecting Community & History, to shine a light on the unprecedented theft of property from Jewish people and communities during the Shoah and its aftermath. The four-week campaign will run from Friday, January 27 and continue through Sunday, February 26.
Over the last three years, hundreds of thousands of people from around the world engaged in the #MyPropertyStory campaign.  People participated through social media in response to stories of lives that were forever changed by the Holocaust and how their homes, land, businesses, and personal possessions were powerful links to their pasts. The last season of the campaign expanded on TikTok featuring videos directed to youth.
This year, 78 years after the Holocaust ended, the campaign will focus on communal property such as cemeteries, synagogues, and schools and how these properties are important links to Jewish heritage and history.  Some of the powerful stories shared this season will highlight recent property restitution successes.
"We are launching the #MyPropertyStory social media campaign on International Holocaust Remembrance Day to not only remember the six million Jewish victims of the Holocaust but also to remember the largest theft in human history. With this campaign, by shining a light on all that was wrongfully taken from Jews and Jewish communities throughout Europe, it is my hope that this will encourage governments to act so that we can help secure a measure of justice for survivors and their families, " said Gideon Taylor, Chair of Operations, World Jewish Restitution Organization (WJRO).
"The #MyPropertStory social media campaign serves as a powerful channel for Holocaust survivors and their families to reconnect and share with others a part of life and culture that was so wrongfully taken from them.  This year, we are pleased to share some positive stories about people – both Jews and non-Jews – coming together to bring dignity back to a Jewish cemetery in Poland as well as other stories about Holocaust restitution progress.  Sharing these stories helps to provide some measure of support to elderly survivors as well as acknowledging their roots.  It also helps set the record straight and ensures that these essential voices are heard to combat Holocaust distortion and denial," said Mark Weitzman, Chief Operating Officer, World Jewish Restitution Organization (WJRO).
WJRO is also asking participants to post their own stories, photos, and videos on Facebook, Twitter, TikTok, and/or Instagram and include the #MyPropertyStory and tag @WJRORestitution.  People can also go to http://www.wjro.org.il/mps for easy access to one-click sharing of WJRO's moving videos, stories, and photos on social media in English and Hebrew. There is also a general email address for any questions at mypropertystory@wjro.org.il.
During the Holocaust, the Nazis, their allies, and collaborators systematically robbed millions of Jews and Jewish communities throughout Europe of their every possession, including their homes, businesses, synagogues, artworks, Judaica, and other personal belongings.  Each item represented a cherished memory, a loved one, a childhood cut short, a lifetime of labor – generations of history – people's lives that were taken.  The #MyPropertyStory: Connecting Community & History social media campaign will help raise awareness about the issue of Holocaust era property restitution and ongoing efforts to secure a measure of justice for survivors and their families.
The #MyPropertyStory: Connecting Community & History videos feature:
Dan Oren, M.D. from Connecticut, tells a moving story of coming back with his mother to her birthplace in Poland in 1993. While there, he visited an overgrown and neglected cemetery in Markuszow (near Lublin), where he found a tombstone with an epitaph in Yiddish. After 20 years of research, he was able to prove the tombstone was his great-great-grandmother's. This trip motivated him on a journey to connect to his ancestral heritage and also inspired him to help others do the same.  He tells this story during a visit this past summer to Markuszow while he was cleaning up his family's ancestral cemetery with other Jewish and non-Jewish volunteers, in preparation for a dedication ceremony.
Dan Oren, M.D., head of Friends of Jewish Heritage in Poland (FJHP), and Steven D. Reece, Ph.D., a Baptist minister, head of the Matzevah Foundation, speak about their trip this past summer to Markuszow, Poland, bringing together Jewish and non-Jewish volunteers cleaning up and dedicating Dan's family's ancestral cemetery. The video also includes interviews and footage of those involved in the project including Lublin Bishop Mieczyslaw Cislo, Teresa Klimowicz, Ph.D., The Well of Memory, Markuszow Mayor Leszek Łuczywek, FODZ Director Piotr Puchta, Chief Rabbi of Poland Michael Schudrich, and Bożena Tkaczyk-Żurawska, Markuszów Municipality Secretary.
Piotr Puchta, Director of the Foundation for Preservation of Jewish Heritage in Poland (FODZ) speaks about the coming together of different entities, from local authorities to spiritual leaders – both Jewish and non-Jewish – getting involved with projects to protect and preserve Jewish Heritage in Poland. He speaks about the work that has been done and the extensive work that remains.
For more information about the #MyPropertyStory campaign, please visit:  wjro.org.il/mypropertystory.
Background Information about Recent Holocaust-era Property Restitution Activity  
2022
On December 20, 2022, legislation introduced by Lithuanian Prime Minister Ingrida Šimonytė addressing Holocaust era property restitution claims was overwhelmingly passed by the Lithuanian Parliament (Seimas) and then signed into law by President Gitanas Nausėda on December 29, 2022. The new legislation will provide €37 million as symbolic compensation to private claimants and to the Lithuanian Good Will Foundation with respect to heirless Jewish property. A portion of these funds will be directed to making payments to some claimants who had originally sought compensation for private property, but who were unfairly rejected under the existing law at the time. Read more here.
On November 3, 2022, WJRO participated in the Terezín Declaration Conference focusing on Holocaust era property restitution and related issues in Prague, Czech Republic. The Ministry of Foreign Affairs of the Czech Republic hosted this international conference bringing together Minsters, Government Officials, and Heads of International Organizations to develop additional steps that can be taken to implement the 2009 Terezín Declaration. Participants addressed issues of Holocaust survivor welfare, immovable property, Jewish cemeteries and burial sites, Nazi looted art, Jewish cultural property, Holocaust research and education, remembrance and memorial sites, as well as archival records. At the conference, WJRO released a key update report on Holocaust era property restitution since the release of the Just Act Report.
On October 30, 2022, members of WJRO met with Israeli President Isaac Herzog and other Jewish leaders, including members of the Knesset. The purpose of the meeting was to discuss issues in support of Holocaust survivors seeking justice for property restitution ahead of the upcoming International Terezin Declaration Conference in Prague on November 3.
In October 2022, WJRO released, in cooperation with the Croatian government, the publication of an extensive report that presents a historical analysis and partial list of cultural objects looted from Jews and others by the Croatian fascists – the Ustaše – during the Holocaust and after World War II, that were nationalized by the Communist government and distributed to Croatian state institutions. The Croatian Ministry of Culture has recently established an expert group on provenance research.  A claims process has yet to be established. Read more here.
In September 2022, at the European Parliament in Strasbourg, representatives of various stakeholder groups participated in a conference, "Unfinished Justice: The Vital Role of Restitution and History for Europe Today" raising awareness on the importance of restitution, exploring solutions to advance it, and defining the role the European Parliament can play in the process.
In November 2016, Romania passed legislation to extend an existing monthly pension, as well as other benefits, to Romanian Holocaust victims who no longer hold Romanian Citizenship. In July 2022, an agreement was negotiated between Israel and Romania to implement this law and accept official Israeli documentation, which will result in monthly pensions to approximately 15,000 Romanian Holocaust survivors now living in Israel. This agreement was brokered by Amb. Colette Avital, WJRO's Secretary-General and Chairperson of the Center of Holocaust Survivors in Israel.
On February 10, 2022, the Latvian Parliament adopted a historic law on religious and communal property restitution, which was the result of efforts led by WJRO and the Latvian Council of Jewish Communities (LCJC). President Egils Levits signed the bill into law on February 21, 2022.
This bill, which completes the process of Jewish communal and religious property restitution in Latvia, provides reimbursement for immovable properties belonging to Jewish religious and communal organizations before the Soviet occupation of Latvia in June 1940, and Jewish heirless property, which could not be previously returned through denationalization laws. This legislation will provide €40 million ($46 million) in funding, to be used to revitalize the Latvian Jewish community, provide social and material assistance to Holocaust survivors from Latvia, and preserve the memory of those who perished. The Latvian Jewish Community Restitution Fund (LEKOREF) is the foundation responsible for managing and distributing the funds over the next ten years.
###
For media inquiries please contact pr@wjro.org.il