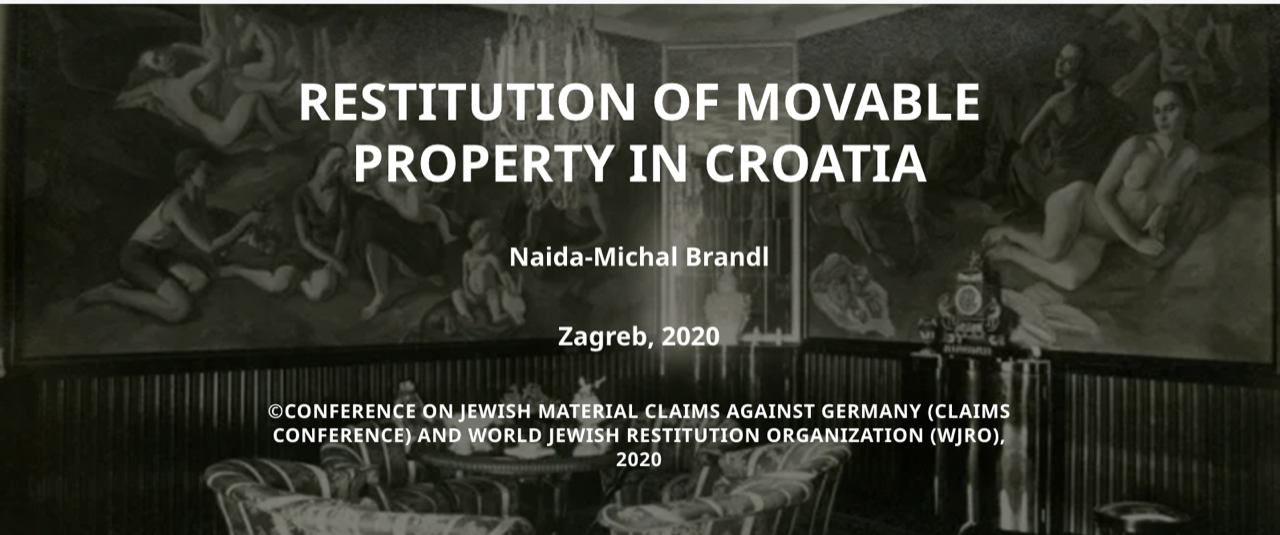 THE WORLD JEWISH RESTITUTION ORGANIZATION (WJRO) ANNOUNCES REPORT ON CULTURAL OBJECTS LOOTED DURING THE HOLOCAUST BY THE CROATIAN FASCIST USTAŠE, THEN NATIONALIZED AND DISTRIBUTED UNDER COMMUNISM
Report presents historical analysis of the KOMZA (Commission for the Gathering and Protection of Cultural Monuments and Antiquities) and information on current location of many cultural objects
NEW YORK, NY, October 20, 2022: The World Jewish Restitution Organization (WJRO) announces the publication of an extensive report that presents a historical analysis and partial list of cultural objects looted from Jews and others by the Croatian fascists – the Ustaše – during the Holocaust and after World War II, that were nationalized by the Communist government and distributed to Croatian state institutions.  The report was completed in 2020 based on the archives of the KOMZA (Commission for the Gathering and Protection of Cultural Monuments and Antiquities) that were made accessible the previous year by the Ministry of Culture of the Republic of Croatia.
The report is now being released in cooperation with the Croatian government and WJRO. It was originally scheduled to be released in 2020 but was delayed partly due to the COVID-19 pandemic and to the 2020 earthquake in Zagreb.  The Croatian Ministry of Culture has recently established an expert group on provenance research.  A process for claims has yet to be established.
"This report being released just weeks before the international Terezin Declaration Conference on Holocaust era assets will serve as a powerful resource for Holocaust survivors and their families and the Croatian Jewish community who seek to pursue possible claims in the future," said Gideon Taylor, Chair of Operations, WJRO and Mark Weitzman, Chief Operating Officer, WJRO.  "We are glad that the Croatian Ministry of Culture is doing the right thing by jointly releasing this report after many years of discussions. Although it has been nearly seventy-eight years after the Holocaust, it is particularly appropriate for Croatia to act now since Croatia is scheduled to assume the presidency of the International Holocaust Remembrance Alliance (IHRA) with its 35 member countries in 2023."
"We welcome the release of this extensive historical report that hopefully will provide a pathway for Holocaust survivors, their families, and others to file claims for cultural objects that were looted during the Holocaust and its aftermath. We want to thank Dr. Naida-Michal Brandl for all her hard work on this report and hope that this information will become a helpful resource to provide a measure of justice and assistance to Holocaust survivors and their heirs," said Daniel S. Mariaschin, B'nai B'rith International CEO.
"Croatia welcomes the release of this report and shares the wish to provide Holocaust survivors and their heirs with a fair measure of justice," said Nina Obuljen Koržinek, Minister of Culture and Media, Republic of Croatia.  "By deciding in 2019 to open to the public and digitize the KOMZA Collections, we want to provide open access to researchers.  We believe that at this stage, the priorities should be thorough provenance research allowing indisputable attribution of looted property to their rightful owners, as well as improvement to the legislative framework."
"We welcome this release as a first step that can hopefully lead to further steps that might help resolve the long-standing issues of restitution with Croatia," said Dr. Ognjen Kraus, President of the Jewish Community of Zagreb and of the Coordinating Committee of the Jewish Communities in the Republic of Croatia.
More than 20 years ago, the Republic of Croatia endorsed the Principles on Nazi-Confiscated Art that resulted from the 1998 Washington Conference on Holocaust-Era Assets attended by 44 countries, at which the Croatian delegation referred to the relevance of the KOMZA archives. Croatia also endorsed the Vilnius Forum Declaration of 2000 and the Terezin Declaration of 2009 that resulted from the 2009 Prague Conference on Holocaust-Era Assets.  In addition, Croatia is a signatory to the Code of Ethics of the International Council of Museums (ICOM) and has participated in relevant Council of Europe and European Union resolutions.
Outstanding issues for further discussion: WJRO urges the Republic of Croatia to open all remaining records concerning cultural property looted in the Holocaust, to continue and broaden its good development of provenance research, to publicize unrestituted art in order to locate its pre-War owners or their heirs, to develop a national procedure whereby claims for such looted art can be made, and to discuss the proper disposition of unclaimed "heirless" art with representatives of Jews living in Croatia and of Croatian Jews living abroad.
The report was researched and produced by Dr. Naida-Michal Brandl, Chair of the Judaic Studies Program at the University of Zagreb. Funding for the report was provided by the Conference on Jewish Material Claims Against Germany (Claims Conference).  The report in English and Croatian along with an appendix summarizing information from the KOMZA archive can be found online at https://art.claimscon.org/work-provenance-research-archives/croatia-report-restitution-of-moveable-property/,  Further information on WJRO-Claims Conference cultural property projects concerning Croatia can be found online at https://art.claimscon.org/work-provenance-research-archives/croatia/.
The report has also been published in book form in English and Croatian by Leykam International under the title Appropriation of Jewish Property in Croatia:  Zagreb as a Case Study.  For further information and to order copies, please see  https://www.leykam-international.hr/publikacija.php?id=248.
The report lists over a thousand objects that were taken from Jewish and non-Jewish individuals and families.  Some of the cultural objects are in the Strossmayer Gallery in Zagreb and some of these may be seen at https://www.transcultaa.eu/wp-content/uploads/2020/08/Katalog-interactive.pdf. Several relevant articles, some of which include photographs of some of the artworks, may also be seen at https://www.memofonte.it/studi-di-memofonte/numero-22-2019/.
Among the collection in the report is that of Robert Deutsch Maceljski, a prominent Jewish businessman from Zagreb, Croatia.  In 1941, part of his collection was removed and then dispersed during the war and immediately after to several government and private museums. He and his wife were deported and killed in Auschwitz in 1943, survived only by their daughter Vanja. She tried to reclaim the family's collections in 1958 and 1967 but was unsuccessful. Beth Bird Pocker, an heir to the collection currently living in Florida, upon seeing the portrait of her stepmother Vanja held by the Modern Gallery in Zagreb, said, "I saw her lovely portrait through a veil of tears. It breaks my heart to think of what she suffered, what they all suffered. This report is about protecting the history of the art and what happened.  This needs to set a precedent about seeking justice for Holocaust survivors and their families."
A link to the chronology of relations between the Claims Conference-WJRO and the Republic of Croatia regarding looted art and cultural property may be found in English at https://art.claimscon.org/work-provenance-research-archives/croatia-chronology/ and in Croatian at https://art.claimscon.org/work-provenance-research-archives/kronologija/
Background:
The Jewish community in Croatia was almost obliterated in the period of the Shoah. Approximately 80 percent of Croatian Jewry was murdered, and their property was looted and/or destroyed. After the Second World War, most pre-war Jewish communities and societies were not re-established. Their property had been ransacked, often destroyed. Jewish cemeteries and other forms of their cultural heritage, both tangible and intangible, were also desecrated or destroyed.
Of the more than 25,000 Jews who lived in what is now Croatia before the Second World War, only around 6,000 survived the Holocaust. Currently, about 2,000 Jews live in Croatia.
###
For media inquiries please contact pr@wjro.org.il