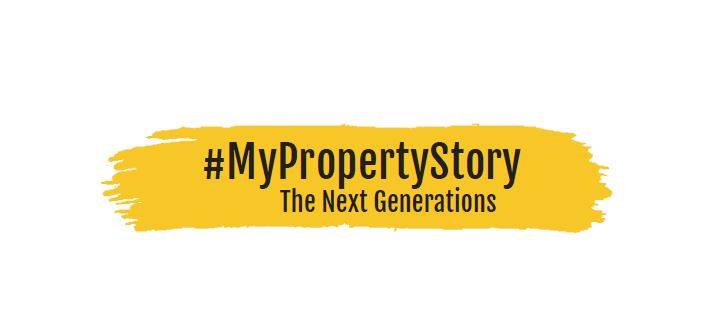 WORLD JEWISH RESTITUTION ORGANIZATION (WJRO) LAUNCHES SECOND ANNUAL SOCIAL MEDIA CAMPAIGN – #MyPropertyStory: The Next Generations – BEHIND EVERY PROPERTY THERE IS A STORY
Survivors, children and grandchildren of survivors share stories about lives that were forever changed by the Holocaust to show how homes, land, businesses, or personal possessions are important and powerful links to the past
(New York, NY) September 8, 2020: In advance of the Jewish High Holidays, the World Jewish Restitution Organization (WJRO) today launched the second annual social media campaign, #MyPropertyStory: The Next Generations, to shine a light on the unprecedented theft of property from Jewish people and communities during the Shoah and its aftermath. The five-week campaign will run from Tuesday, September 8 and continue through Shemini Atzeret/Simchat Torah, Sunday, October 11.
Last year, tens of thousands of people from around the world participated in the #MyPropertyStory campaign.  People engaged through social media in response to stories of lives that were forever changed by the Holocaust that showed how their homes, land, businesses, and personal possessions were powerful links to their pasts.
This year, 75 years after the Holocaust, the campaign will also focus on children and grandchildren of survivors – The Next Generations.  Their stories will be powerful additions to the campaign.
"Following the success of last year's #MyPropertyStory social media campaign, we are honored to launch an expanded version this year, focused on the children and grandchildren of the survivors who lost so much," said Gideon Taylor, Chair of Operations, World Jewish Restitution Organization (WJRO). "This campaign offers a unique opportunity for people to share and connect with one another – focusing on how the injustices of lives that were forever changed by the Holocaust have affected Jewish families across generations."
WJRO is asking participants to post their stories through videos, photos, statements, or drawings – via Facebook, Twitter, and/or Instagram and include – #MyPropertyStory and tag @WJRORestitution.  People can also go to http://www.wjro.org.il/mps for easy access to one-click sharing of WJRO's moving videos, stories, and photos on social media in English and Hebrew. There is also a general email address for any questions at mypropertystory@wjro.org.il.
During the Holocaust, the Nazis, their allies, and collaborators systematically robbed millions of Jews of every possession from their homes and businesses, as well as property belonging to Jewish communities throughout Europe.  Each item represented a cherished memory, a loved one, a childhood cut short, a lifetime of labor – generations of history – people's lives that were taken.  The #MyPropertyStory: The Next Generations social media campaign will focus on survivors and their descendants and their connection to their family history before and after the Shoah.
WJRO has created customized videos (in Hebrew and English) with interviews of two daughters and a son of Holocaust survivors who share their own journey of what has connected them to their family history. These videos can be used by anyone for reposting through this link.
The #MyPropertyStory: The Next Generations interviews feature:
Lorraine Braun, daughter of Holocaust survivors, talks about the importance of connecting to her family's ancestry. Her late mother would often tell stories about her life before the Holocaust and speak about her happy home and what it was like to have to abandon her home. In 2012, Lorraine traveled with her siblings, son, and extended family to Királyhelmec in the Czech Republic – the hometown of both her parents – to visit her mother's home because she says: "We felt that it was our inheritance to try to take back some of that sense of joyfulness that existed in the house."
In another video, Israeli Shoshana Greenberg, a daughter of a Holocaust survivor, who has worked tirelessly to get all the documentation to prove she was the rightful heir to her family's property including a textile factory, travels to the home in Lodz, Poland and speaks about encountering resistance to her claims. She says, "Despite all the efforts I made and everyone I turned to in court, my saga of recovering the property is at a standstill."
The video of Israeli David Kotek shows him visiting an apartment building in Sosnowiec, Poland that belonged to his father and his aunt. It had been a family home, carpentry and factory. David expresses his excitement about visiting the home because he knew that after the war, his grandfather, father and aunt all came together in the same spot after being liberated from concentration camps. Four years ago, David found out that the building was nationalized by the Communists.  He believes, "The restitution of property [in Poland] will be a historical justice and will bring Polish and Jewish people closer together."
As the groundbreaking Justice for Uncompensated Survivors Today (JUST) Act report recently released by the US State Department makes clear, many European countries have not met their commitments on Holocaust era property restitution.  The #MyPropertyStory campaign will help elevate the issue so that Holocaust survivors can seek a measure of justice during their lifetime.
For more information about the #MyPropertyStory campaign, please visit:  wjro.org.il/mypropertystory.
Background Information about Recent Holocaust-era Property Restitution Activity  
In July, the US State Department issued to Congress the Justice for Uncompensated Survivors Today (JUST) Act Report. This is the US Government's first-ever comprehensive review on the state of restitution of Holocaust-era assets across Europe and beyond.
The report reflects the importance the US Government places on finding a measure of justice for Holocaust victims and their heirs and is intended to encourage countries to fulfill the commitments they made by endorsing the Terezin Declaration.  (The 2009 Terezin Declaration on Holocaust Era Assets and Related Issues was endorsed by the US and 46 other countries and affirmed the importance of restitution of Holocaust-era property.)
In the forward to the report, Secretary of State Mike Pompeo declares, "I will continue to prioritize this effort."
The report was issued to Congress by the State Department as required by the JUST Act, passed unanimously by both houses of Congress and signed into law by President Trump in May 2018.
In July, speaking on behalf of the British Government, Lord Ahmad of Wimbledon, Minister of State, Foreign and Commonwealth Office and Department for International Development, strongly reaffirmed the British Government's support for Holocaust-era property restitution in Poland and other countries. Lord Ahmad's statements came in reply to a question asked in the House of Lords by Baroness Ruth Deech, a leading advocate for property restitution in Poland.
Poland is the only country in the European Union that has not passed comprehensive legislation for restitution or compensation for private property taken during the Holocaust by the Nazis and/or subsequently nationalized by the Communists.
Lord Ahmad added that he would raise the issue of property restitution in his first meeting with the Polish Foreign Minister.
Nine other members of the House of Lords across parties also spoke on the issue. Lord Pickles, UK Special Envoy for Post-Holocaust Issues, asked Lord Ahmad to confirm in reference to the forthcoming release of the US Government's JUST Act Report on Holocaust-era Assets, "that we will work alongside our allies in the United States and Poland to see that justice is brought to the families of Holocaust victims whose property was confiscated by the Nazis?"
For media inquiries please contact pr@wjro.org.il