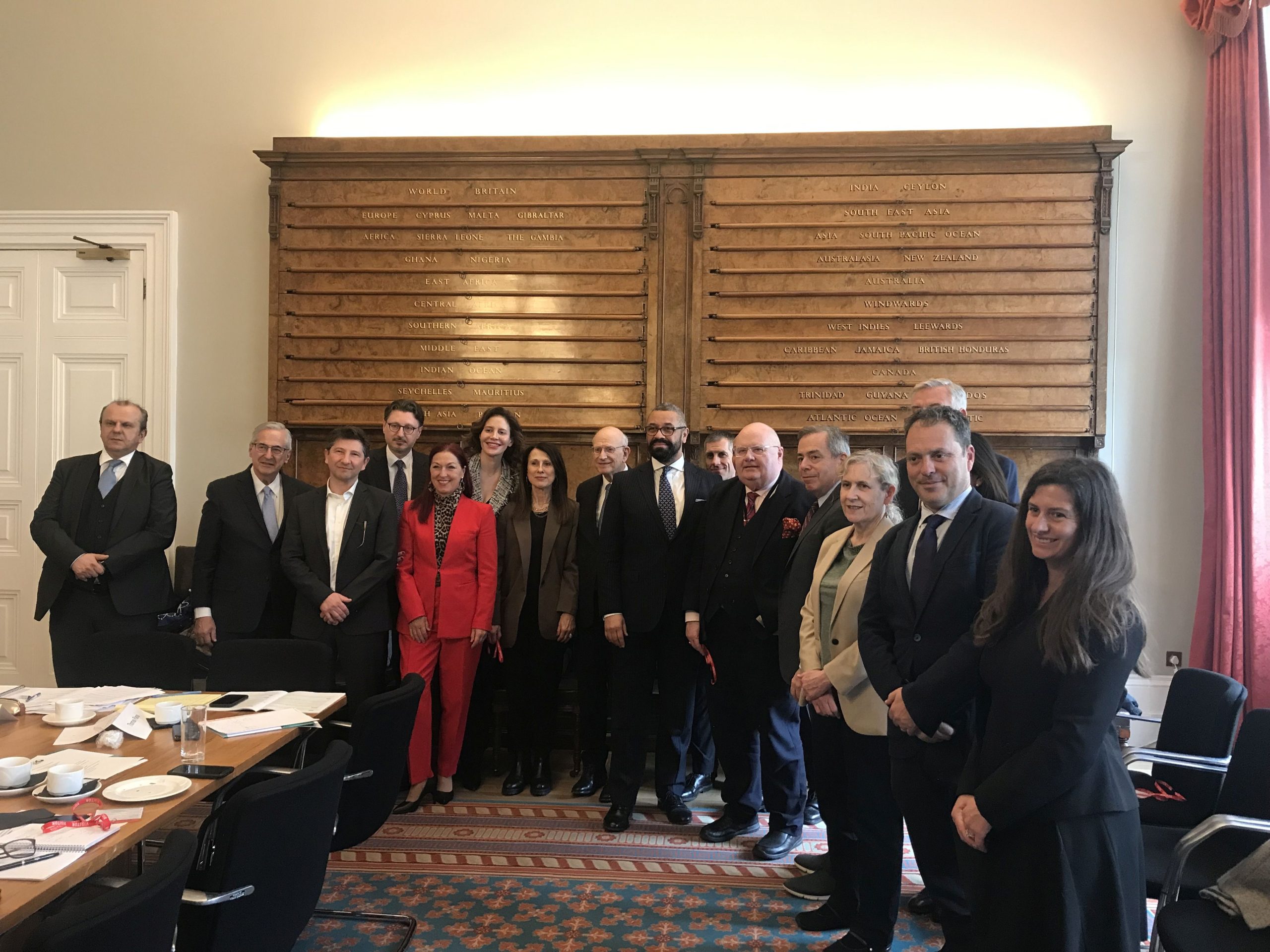 THE WORLD JEWISH RESTITUTION ORGANIZATION (WJRO) AND THE UNITED KINGDOM HOST FIRST-EVER INTERNATIONAL GATHERING OF HOLOCAUST ENVOYS TO DISCUSS PROPERTY RESTITUTION
Conference marks the first steps in building a network of Holocaust envoys across the world to address the injustices of the past; More than 20 VIPS attended representing over 10 countries
NEW YORK, NY  March 29, 2023:  – On Tuesday, UK Special Envoy for Post-Holocaust Issues Lord Pickles and the World Jewish Restitution Organization (WJRO) hosted the first-ever international gathering of Holocaust envoys, to discuss initial steps in building a network of envoys across the world to address Holocaust era property restitution. Also in attendance were Ambassadors, experts, and other dignitaries.
At the meeting, more than 20 international representatives from over 10 countries discussed how to obtain justice for Holocaust survivors and their families, who not only lost loved ones but also had their homes, businesses, communal property, art, and cultural property seized during the Shoah.
"Often Holocaust survivors talk to me about personal items like books and spoons. Sometimes that is the only evidence on earth that the person actually existed…Their looted artworks are also in plain sight – on the walls of museums and private collections. Most often, people aren't looking for money – they are looking for recognition, for dignity," said Lord Pickles, Special Envoy for Post-Holocaust Issues, UK.
"We have had to overcome the lack of political will in the past. US Secretary of State Blinken has made clear that he takes a great interest in this [Holocaust era property restitution.] Sadly, today, the history of the Holocaust is being grossly distorted. We strive to address historical wrongs so we can achieve justice and fairness. The question today – is there something that we can do to help solve that problem? At this gathering we are looking for solutions to help move the needle and bring this to the attention of governments in Europe that need to do more," said Mark Weitzman, Chief Operating Officer, World Jewish Restitution Organization (WJRO).
"The meeting was an important gathering of Holocaust envoys to discuss restitution and compensation and how to encourage countries in Eastern and Central Europe that have not yet done so to take action to address the injustices of the past…This is a powerful opportunity to do something right, something meaningful," said Ellen Germain, US Special Envoy for Holocaust Issues.
"This process of restitution has been unfortunately long and slow. After the Holocaust, the first priority was to take care of the Holocaust survivors. The next step was to bring the perpetrators to justice. Now it is the last part of the story, and we have a much bigger focus also on property restitution. The creation of this forum is very powerful because it sends a very strong message about justice," said Ambassador Yossef Levy, Special Envoy for the Restitution of Holocaust Era Assets, Israel.
In 2009, 47 countries, including all nine countries that participated at the conference, endorsed the Terezin Declaration, which recognizes "the importance of restituting or compensating Holocaust-related confiscations made during the Holocaust era between 1933-45." Almost 80 years after the Holocaust, however, only a small fraction of private and communal immovable and movable property illegitimately seized from Jewish victims has been returned or compensated.
The Terezin Declaration also affirms "the importance of recovering communal and religious immovable property in reviving and enhancing Jewish life, ensuring its future, assisting the welfare needs of Holocaust (Shoah) survivors, and fostering the preservation of Jewish cultural heritage."
The 1998 Washington Conference Principles on Nazi-Confiscated Art, endorsed by 44 countries, established principles concerning the restitution of art confiscated by the Nazis and that was not subsequently restituted, including principles for countries to search provenance to identify stolen art, and to publicize the information.
For a link to a recent report prepared by WJRO in November 2022 on key updates on Holocaust era immovable and movable property restitution since the release of the JUST Act report, click here.
List of Attendees:
Rüdiger Bohn, Deputy Head of Mission, Embassy of Germany in the United Kingdom (Germany)
Irwin Cotler, Special Envoy on Preserving Holocaust Remembrance and Combatting Antisemitism (Canada)
Paul Downie, Deputy Director, Holocaust Memorial Team (United Kingdom)
Stuart Eizenstat, Special Adviser on Holocaust Issues (United States)
Pascale Falek, Policy Officer in the office of the Coordinator on combating antisemitism and fostering Jewish life (European Commission)
Wesley A. Fisher, Director of Research, Conference on Jewish Material Claims Against Germany and World Jewish Restitution Organization, Head of Claims Conference-WJRO Looted Art and Cultural Property Initiative
Ellen Germain, Special Envoy for Holocaust Issues (United States)
Michael Haider, Director of the Austria Cultural Forum, Federal Ministry for European and International Affairs of the Republic of Austria -Office of the Legal Adviser (Austria)
Iphigenia Kanara, Deputy Head of Mission, Embassy of Greece in the United Kingdom (Greece)
Davor Kristić, Minister Counsellor, Embassy of Croatia in the United Kingdom (Croatia)
Hannah Lessing, Secretary General, National Fund of the Republic of Austria for Victims of National Socialism (Austria)
Yossef Levy, Special Envoy for Holocaust Era Restitution (Israel)
Sara Lustig, Special Advisor to the Prime Minister for Holocaust Issues, Combating Antisemitism and Relations with Jewish Organizations (Croatia)
Thomas Piana, Chargé de mission auprès de l'Ambassadrice pour les droits de l'Homme, chargée de la dimension internationale de la Shoah, des spoliations et du devoir de mémoire (France)
Lord Eric Pickles, Special Envoy for Post-Holocaust Issues (United Kingdom)
Robert Rehak, Ambassador and Special Envoy for Holocaust, Interfaith Dialogue and Freedom of Religion (Czech Republic)
Sally Sealey, Chief of Staff to Lord Pickles (United Kingdom)
Anne Webber, Founder and Co- Chair of the Commission of Looted Art in Europe
Avi Weber, Advisor to Ministry for Social Equality (Israel)
Mark Weitzman, Chief Operating Officer, World Jewish Restitution Organization
Samantha Wynne, Director of International Affairs, World Jewish Restitution Organization,
Eddo Verdoner, National Coordinator for Countering Anti-Semitism, NCAB (Netherlands)
###
For media inquiries please contact pr@wjro.org.il