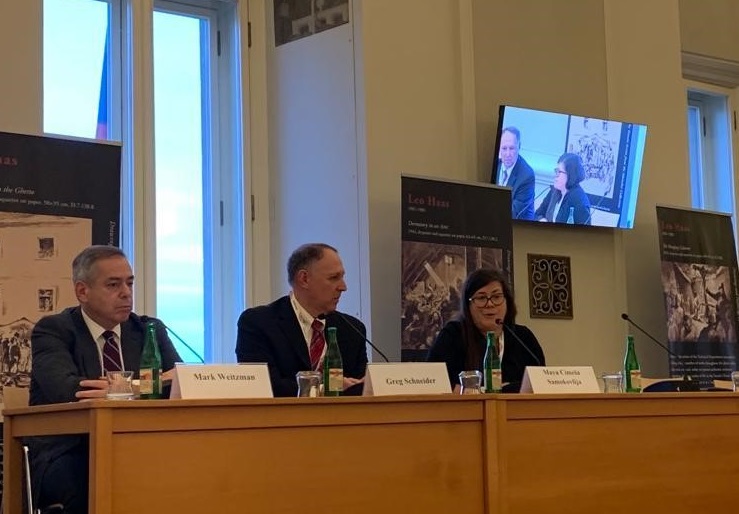 THE WORLD JEWISH RESTITUTION ORGANIZATION (WJRO) GATHERED WITH MINISTERS, GOVERNMENT OFFICIALS & HEADS OF INTERNATIONAL ORGANIZATIONS AT TEREZIN II CONFERENCE URGENTLY CALLING FOR JUSTICE FOR HOLOCAUST VICTIMS & THEIR HEIRS
Conference focused on Holocaust era property restitution and related issues;
Representatives of 47 countries provided new ideas of additional steps that can be taken as an implementation of the 2009 Terezín Declaration
NEW YORK, NY, November 10, 2022:  – During the Terezín Declaration Conference held in Prague last week, the World Jewish Restitution Organization (WJRO) along with representatives of 47 countries urgently called for justice for Holocaust survivors and their families who had their property seized during the Shoah. The Ministry of Foreign Affairs of the Czech Republic hosted this international conference focusing on Holocaust era property restitution and related issues on November 3. The conference brought together ministers, government officials, and heads of international organizations to address issues of Holocaust survivor welfare, immovable property, Jewish cemeteries and burial sites, Nazi looted art, Jewish cultural property, Holocaust research and education, remembrance and memorial sites, as well as archival records. WJRO was featured on several panels including the opening event.
During a video message, U.S. Secretary of State Antony Blinken told a moving story about his stepfather, Samuel Pisar who was a Holocaust survivor, when at the age of 13, his mother had her engagement ring ripped off her finger by a Nazi soldier just before being sent to a death camp along with Sam's sister.
In the message Blinken said, "Among the immeasurable horrors the Nazis perpetrated against the Jews was their systematic dispossession – of homes, businesses, land, bank accounts, family heirlooms, works of art – and from all victims, personal valuables…The dispossession was part of the stripping away of a person's humanity of turning an individual into a number…As this conference is held, the need to provide some measure of justice for survivors is more urgent than ever."
In a video message, Israeli President Isaac Herzog said, "Twelve years after the Terezin Declaration, we have seen several important steps taken by numerous countries…But as the 2020 US State Department's report made clear following the pivotal JUST Act, far more steps must be taken to implement the Terezin Declaration principles into effective, transparent, and accessible policies and legislation. I, therefore, urge all countries to act without delay…As President of the State of Israel, the nation state of the Jewish people, I am committed to working with all of you to fulfill these duties… Including… the entire team of [WJRO]."
President of the Czech Republic Miloš Zeman issued a video statement in which he said, "There is a strong historical bond between the Czech and Jewish nations. Therefore, I thank you very much for your participation in the Terezin Declaration Conference, which can move many things forward… [such as] tackling property injustices from the time of the Holocaust. The survivors and those who are no longer here must get their justice one day…We all need to use our influence to change the situation."
Amb. Colette Avital, a Holocaust survivor who is also Secretary General, WJRO and Chairperson of the Center Organizations of Holocaust Survivors provided the following remarks at the opening session: "It [the Holocaust] was not only the greatest genocide in world history but also the greatest theft of a peoples' entire possessions, their cultural and religious heritage – a theft of Jewish movable and immovable property, financial assets, insurance benefits, art, Judaica, books, furniture, gold…our work to rectify the wrongs of the Holocaust remains highly incomplete… So, time is of [the] essence. We have ahead of us a narrow window of opportunity to…make the lives of the survivors just a bit more bearable…Concrete steps can and must be taken to cut bureaucracy, facilitate and speed up the restitution process so to enable us all to see that justice is not only preached but is actually achieved."
"This conference gives us the last, best hope to help the 275,000 remaining Holocaust survivors live out their last years in greater dignity than they knew in their tragic youth," said Amb. Stuart E. Eizenstat, Chairman of the US Holocaust Memorial Museum Council and Special Advisor on Holocaust Issues to the US Secretary of State during the conference. "It is unlikely there will be another international conference with this breadth of participation in their lifetimes…Tragically, we are approaching the time when there will be no eyewitnesses to the Holocaust…This should provide a greater sense of urgency to implementing the Terezin Declaration."
"It is important to set the record straight and uphold the integrity of the historical record to ensure that we can seek justice for Holocaust survivors and Jewish communities whose property was brutally taken by the Nazis and their allies as an integral part of the genocide," said Mark Weitzman, Chief Operating Officer, World Jewish Restitution Organization (WJRO). "We urgently call on all European countries to do the right thing so that Holocaust survivors who suffered so much can live their lives with dignity. At this conference, we have explored new ways and ideas to put pressure on countries that are currently failing to meet their Terezin Declaration commitments."
Speakers at the conference included Rabbi Andrew Baker, OSCE Chairperson-in-Office on Combating Anti-Semitism & American Jewish Committee, Prof. Yehuda Bauer, Meirav Cohen, Minister of Social Equality of the State of Israel, Wesley Fisher, Director of Research, Conference on Jewish Material Claims Against Germany and WJRO, Ellen Germain, Special Envoy for Holocaust Issues, U.S. Department of State, Amb. Dan Haezrachy, Special Envoy for Holocaust Era Restitution, Israel, Jan Lipavský, Minister of Foreign Affairs of the Czech Republic, Rt Hon Lord Eric Pickles, United Kingdom Special Envoy for post-Holocaust Issues, Katharina von Schnurbein, European Commission Coordinator on Combatting Antisemitism, Greg Schneider, Executive VP of the Claims Conference, Anne Webber, Co-Chair of the Commission for Looted Art of Europe, among others.
In 2009, 47 countries, including all 28 current members of the European Union, endorsed the Terezin Declaration, which recognizes "the importance of restituting or compensating Holocaust-related confiscations made during the Holocaust era between 1933-45." Almost 80 years after the Holocaust, however, only a small fraction of private and communal immovable and movable property illegitimately seized from Jewish victims has been returned or compensated.
The Terezin Declaration also states "the importance of recovering communal and religious immovable property in reviving and enhancing Jewish life, ensuring its future, assisting the welfare needs of Holocaust (Shoah) survivors, and fostering the preservation of Jewish cultural heritage."
The conference was held at Czernin Palace in Prague.  For further information, click here.
For a link to the report on key updates on Holocaust era immovable and movable property restitution since the release of the JUST Act report presented at the Terezin Declaration Conference in Prague, November 2022, click here.
###
For media inquiries please contact pr@wjro.org.il