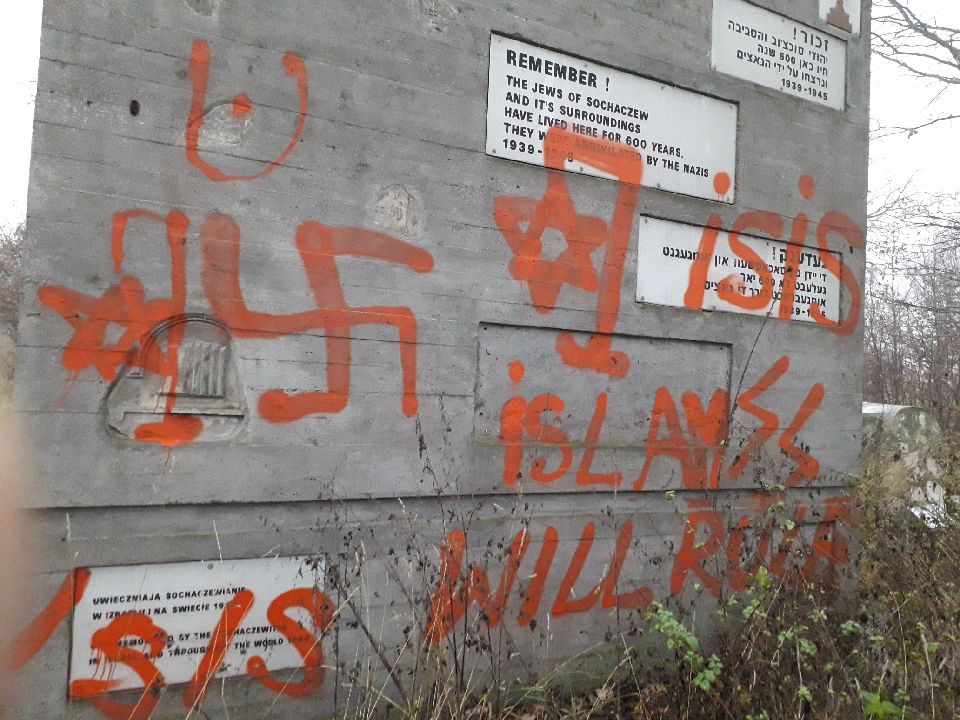 World Jewish Restitution Organization (WJRO) Condemns Vandalization of Cemetery in Poland
Swastikas and ISIS Inscriptions Deface Holocaust Monument
(New York, NY) November 20, 2018.  The World Jewish Restitution Organization (WJRO) condemns the vandalization of the Jewish cemetery in Sochoczew, Poland, which took place over the weekend.  A monument commemorating the Holocaust has been defaced in red paint with swastikas and ISIS inscriptions which read "Death 2 Poland," "ISIS will Rule," and a drawing of a Jewish star hanging from a hangman's post.  This marks the second time that the cemetery has been desecrated since 2015.
"We are horrified by this act," said Gideon Taylor, Chair of Operations, WJRO. "However, we are grateful that the local authorities have responded and are investigating.  This act of hatred is shameful and a painful attempt to try to destroy history and the memory of so many innocent lives that were killed in the Holocaust."
The commemorative monument is designed with inlayed plaques in English, Hebrew and Polish paying tribute to the Jewish victims of the Nazis in WWII.  The plaque in English reads: "REMEMBER! The Jews of Sochaczew and its surroundings have lived here for 600 years. They were annihilated by the Nazis, 1939-1945."
The Jewish cemetery is owned by the Foundation for the Preservation of Jewish Heritage in Poland (FODZ), which is a partnership between the Union of Jewish Communities in Poland and WJRO.  Gideon Taylor is co-chair of FODZ.
There were 4,000 Jews living in Sochoczew, Poland in 1939.  They were deported to labor camps or the Warsaw Ghetto and then to Treblinka. After the Holocaust, none returned.
Photos of the cemetery after the recent defacement can be found here, here, and here. 
For media inquiries please contact pr@wjro.org.il