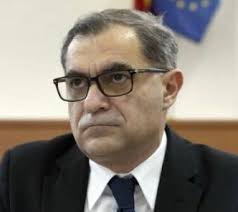 WJRO Statement on the Passing of Romanian Ambassador Mihnea Constantinescu
(Jerusalem) November 19, 2018.  The World Jewish Restitution Organization (WJRO) mourns the passing of Romanian Ambassador Mihnea Constantinescu.    
Gideon Taylor, WJRO Chief of Operations and Colette Avital, WJRO Secretary General issued the following statement:
"With the death of Romanian Ambassador Mihnea Constantinescu, the world lost a statesman.  We will remember him as a leader of Romania's efforts to provide restitution for property wrongfully taken during the Holocaust, a champion of Holocaust remembrance, and a guiding light in the fight against antisemitism."
In February 2015, then Prime Minister Victor Ponta appointed Ambassador Constantinescu to chair a working group of the Romanian government, WJRO, and the Federation of Jewish Communities in Romania to review issues that were delaying the restitution process.  Through Ambassador Constantinescu's leadership, the working group recommended important initial changes that would prioritize processing of claims belonging to Holocaust survivors and resolve technical problems that delayed the return of dozens of Jewish communal properties.  Parliament passed the legislation in May 2016.
During a distinguished career in the foreign service, Ambassador Constantinescu held senior positions in the Romanian Foreign Ministry and served as a diplomatic advisor to several prime ministers. Notably, he led Romania's delegation to the International Holocaust Remembrance Alliance (IHRA), serving as chair of the organization in 2016. IHRA is comprised of 31 countries, including 24 members of the European Union, the U.S., and Canada. Under Ambassador Constantinescu's leadership, IHRA's member states adopted a comprehensive definition of antisemitism in May 2016.
For media inquiries please contact pr@wjro.org.il