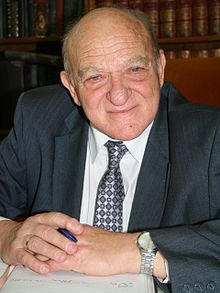 WJRO STATEMENT ON THE PASSING OF DR. AUREL VAINER, LONGTIME HEAD OF THE JEWISH FEDERATION IN ROMANIA
The World Jewish Restitution Organization (WJRO) mourns the passing of Dr. Aurel Vainer, longtime head of the Jewish Federation in Romania.
Gideon Taylor, WJRO Chair of Operations and Mark Weitzman, WJRO Chief Operating Officer, issued the following statement:
"With the death of Dr. Aurel Vainer, longtime head of the Jewish Federation in Romania, the world has lost a great humanitarian and Jewish leader. We will remember him as a respected statesman, a champion of Holocaust remembrance, and a guiding light in the fight against antisemitism and Holocaust distortion. He worked tirelessly to provide justice for survivors and their families who had their property wrongfully taken during the Holocaust and its aftermath. "
Dr. Vainer greatly contributed to the development of Jewish life in Romania. He promoted massive efforts to renovate the synagogues, even in places where Jews no longer lived, saying that the synagogues were the best statement and historical confirmation of the life of Jews in Romania. He fought tirelessly against antisemitism and Holocaust denial, and against hatred and discrimination.
He was fully committed to underlining the contribution of the Jewish community to the scientific, artistic, technological and social development of Romania and was the driving force behind the organization of cultural and book publishing events aimed at proving the participation of Jews in the wars fought by Romania for the unification of the country and the nation
Dr. Vainer was also a respected politician where he served as a representative of the Jewish community in the Chamber of Deputies.
###
For media inquiries please contact pr@wjro.org.il