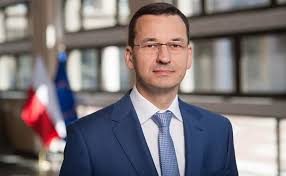 WJRO: Poland's Prime Minister Morawiecki is wrong. The issue of restitution has not been resolved.
Statement of Gideon Taylor, Chair of Operations, World Jewish Restitution Organization
February 17, 2019
We were surprised and disappointed to see Prime Minister Morawiecki's response on Sunday to Secretary of State Pompeo's call for Poland "to move forward with comprehensive private property restitution legislation for those who lost property during the Holocaust era."
Prime Minister Morawiecki was quoted as saying to PAP that the issue has been "definitely resolved."
The issue of restitution has not been resolved.
Prime Minister Morawiecki erroneously referred to a Communist-era treaty between Poland and the United States as resolving the issue.  That 1960 treaty addressed only people who were citizens of the United States at the time of the taking of their property by Poland.  Therefore, the treaty did not cover most Holocaust survivors from Poland.  This was made clear by the United States Department of State in a 2015 letter: https://wjro.org.il/wp-content/uploads/2016/01/Nick-Dean-Response-to-Nowy-Dziennik-Letter-12.22.15.pdf
Poland is the only country in the European Union that has not passed comprehensive legislation for restitution or compensation for property taken during the Holocaust by the Nazis and/or subsequently nationalized by the Communists.
In 2017 Polish Deputy Justice Minister Patryk Jaki said that he was "ashamed" that Poland had not introduced legislation in the 28 years since the fall of Communism. "This should have been taken care of a long time ago," he said.
Jewish and non-Jewish rightful owners and their families have been waiting for many years for Poland to pass legislation to provide them some measure of justice for the property wrongfully taken from them in Poland.
We urge Prime Minister Morawiecki and his Government to seize this opportunity to do justice for those who lost so much.
WJRO represents world Jewry in pursuing claims for the recovery of Jewish properties in Europe (outside of Germany and Austria). WJRO was established by leading world Jewish organizations to address the restitution of Jewish property and to remind the world that the time has come to redress the enormous material wrongs caused to European Jewry during the Holocaust.
For media inquiries please contact pr@wjro.org.il