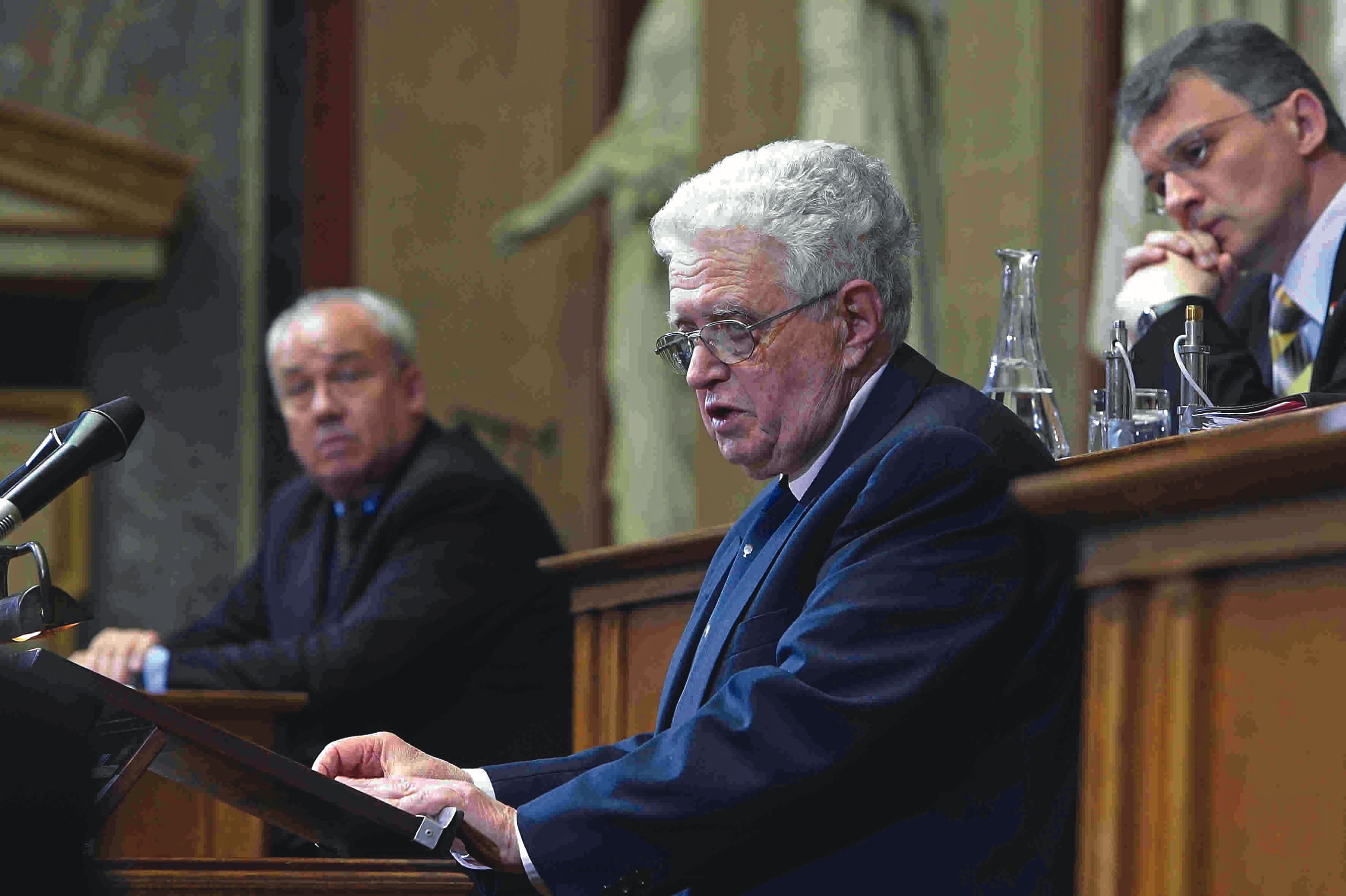 A reckoning with history – Gideon Taylor in Times of Israel
Photo: Holocaust survivor Moshe Jahoda addressed the Austrian Parliament in 2005
To walk the hallways of the Austrian Chancellery with Moshe Jahoda, who passed away last week, was to get a glimpse of history transcending politics. Moshe escaped Vienna in a children's transport to Palestine in 1939. Alone at age 12, he left behind his family who were later killed in Auschwitz.
Sitting next to Moshe as he served as representative of the Claims Conference, face to face with the leaders of Austria, was to participate in a reckoning with that history.
He came not as a supplicant nor as an avenging angel. Rather, he came as a proud former Austrian Jew asking, on behalf of the Jewish people, for the return of that which had been unjustly taken. And he came seeking recognition for those who had suffered.
Moshe did so with honor and with dignity. He personified what Holocaust restitution is about – an accounting with the past and a message for the future.
Many of the younger Austrian government officials with whom we met were in awe of Moshe. For them, he was a window into an era when Vienna was a cosmopolitan city of art and culture with a thriving Jewish community – before the destruction and devastation of the Shoah. He exemplified the best side of Austria. Moshe saw restitution and compensation as inextricably linked with remembrance and education.
Seventy-two years after fleeing Vienna, Austria's President of Parliament awarded Moshe the Great Medal of Honor of the Republic. Five years later, he spoke at the Austrian Embassy in Israel, where he was given the honorary title of "Professor" by the Austrian government.
The passing of Moshe Jahoda, a Holocaust survivor and an advocate for survivors, is yet another reminder, if one was needed, that the work of Holocaust restitution is not finished. The demand for justice in countries of Eastern Europe where Jewish communal and private property often remains unreturned has not gone away.
This is why we must continue to seek to achieve justice in the greatest theft of culture and property of a people in recorded history.
In the 2009 Terezin Declaration, more than 40 European countries, agreed that the time had come for fairness.
"Noting the importance of restituting communal and individual immovable property that belonged to the victims of the Holocaust (Shoah) and other victims of Nazi persecution," the declaration states, "participating States urge that every effort be made to rectify the consequences of wrongful property seizures, such as confiscations, forced sales and sales under duress of property, which were part of the persecution of these innocent people and groups, the vast majority of whom died heirless."
Time is of the essence, as those who survived the Holocaust continue to age and pass on, and as we strive to ensure that the memory of the Holocaust is never forgotten.
In the midst of a changing Europe, the World Jewish Restitution Organization is working to ensure that the emerging new leaders in Eastern and Central Europe understand the importance of the unfinished work that must be accomplished to address the immoral seizing of the homes, businesses and other treasured belongings from millions of people during the Holocaust.
W e are succeeding in opening new dialogues, gaining allies and achieving improvements in the laws of some nations that will help survivors and their families recover that which belonged to them.
But the struggle goes on in many nations which continue to turn a blind eye towards the injustice perpetrated in their lands, and we must continue to press the case that restitution will also help their societies move towards a brighter future and that justice compels action.
Not as avengers, nor with hat in hand.
But, as Moshe Jahoda did, with dignity on behalf of the Jewish people, seeking recognition and restitution for those who have suffered and to educate generations to come.
May his memory be for a blessing.
This piece was published in the Times of Israel on October 23, 2016.
For media inquiries please contact pr@wjro.org.il