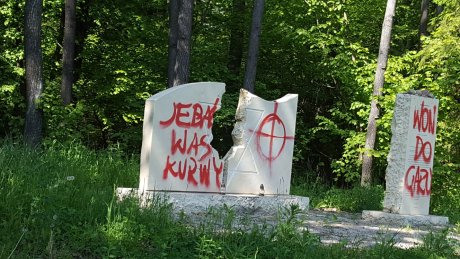 World Jewish Restitution Organization Condemns Vandalization of Commemorative Monument in Poland
New York, May 30, 2016.  The World Jewish Restitution Organization (WJRO) condemned the vandalization in the past few days of a monument to the destroyed Jewish community of Raigrod, Poland which was erected in September 2014.   This follows the previous vandalization of the same monument in April 2015.
"The vandalization of this monument twice in 13 months is doubly painful. This is not only an attack on a monument; it is an attempt to destroy history and to wipe out the memory of those who were killed in the Holocaust," said Gideon Taylor, WJRO chair of operations. "The authorities must step forward and take serious measures to find the perpetrators and to protect this and other such monuments in Poland."
The Jewish cemetery in Raigrod was destroyed during WWII but 70 years later was commemorated thanks to the efforts of the descendants of the Rajgrod Jewish community and the Foundation for the Preservation of Jewish Heritage in Poland (FODZ), the latter having been established in 2002 jointly by the Union of Jewish Communities in Poland and the WJRO.
The commemorative monument was erected next to the Jewish cemetery, designed and carved in Israel and shipped to Poland.  It was installed in September 2014 in a very emotional ceremony at which the last Jewish survivor of the town participated.
A photo of the monument at the time of its establishment can be found: here
A photo of the monument after the recent defacement and the earlier vandalization can be seen: here
Photo courtesy of Wyborzca.pl.
For media inquiries please contact pr@wjro.org.il