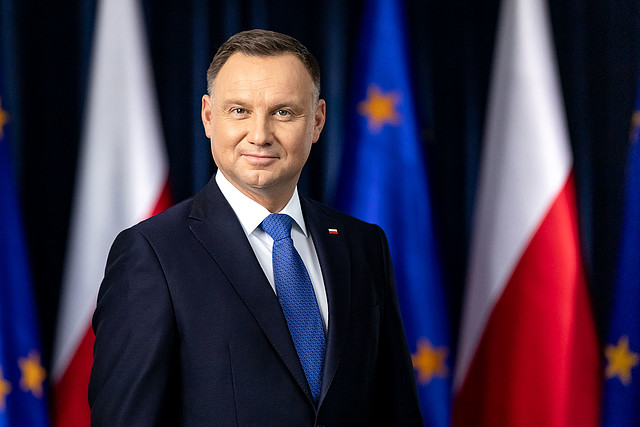 US SENATE URGES POLISH PRESIDENT DUDA TO WITHDRAW BILL THAT WOULD AFFECT COMMUNIST ERA PROPERTY RESTITUTION CLAIMS
Prominent US Senate members express opposition to new bill currently under review in the Polish Senate that would extinguish almost all private property restitution claims in Poland
(New York, NY) July 19, 2021: Prominent US Senators signed a bipartisan letter to President Duda, expressing their "grave concerns" about a proposed bill that would make it virtually impossible for all rightful property owners to recover or receive just compensation for property that was first confiscated by Nazi Germany and then by the Communist era government.
The effort was led by Tammy Baldwin (D-WI), Marco Rubio (R-FL), James Lankford (R-OK), and Jacky Rosen (D-NV) and was signed by other key senators including, Cory Booker (D-NJ), Sherrod Brown (D-OH), Bob Casey (D-PA), Chris Coons (D-DE), Dianne Feinstein (D-CA), Cindy Hyde-Smith (R-MS), Catherine Cortez Masto (D-NV), and Ron Wyden (D-OR).
In the letter, the Senators urge President Duda to "press for the withdrawal of this bill from the Polish Senate, but, if the bill is passed, veto it."  The letter continues, "There is no better way for Poland to demonstrate its clear opposition to the crimes committed by Nazi Germany and the Soviet-backed Polish government. To do so would also ensure that Poland honors its obligations under the 2009 Terezin Declaration on Holocaust Era Assets and Related Issues to support national laws to help Holocaust survivors reclaim their property."
"This letter clearly demonstrates that the US Senate cares deeply about the rights of Holocaust survivors and other rightful property owners who have waited years for a measure of justice for property that was wrongfully confiscated by the Polish Communist regime after the end of the war. Justice for those who lost so much is of great concern, not only to the Jewish world but also to the world at large," said Gideon Taylor, Chair of Operations, World Jewish Restitution Organization (WJRO.)  "We are grateful to Senators Baldwin, Rubio, Lankford, and Rosen for leading this effort and all of the Senators for pressing for urgent action."
The Senators also wrote, "Countless Poles—both Jewish and non-Jewish—suffered during this dark and tragic period of history, and the families of these victims should be able to seek redress."
On June 24, Poland's lower house of Parliament overwhelming passed a bill which would make it virtually impossible for all rightful property owners, to obtain restitution of, or compensation for, property wrongfully confiscated during the Communist period.
The proposed legislation would harm claimants in the following ways:
The Act would totally exclude the possibility of rightful property owners to recover their former property, as it would no longer be possible to challenge administrative decisions older than 30 years, which in practice would include any decisions on nationalization of property during the Communist era.
The Act would fundamentally affect the ability of claimants to file civil suits for compensation, as claimants would no longer be able to obtain a formal confirmation that an administrative decision was issued without legal basis or in gross violation of the law.
All pending proceedings involving Communist-era property decisions would be discontinued and dismissed. If adopted, claimants who filed under the current requirements, many of whom have been pursuing their claims for years, will now be told that their claims are extinguished.
The Senate Commission began to discuss the bill on July 7, and legislative works were continued on July 19. A Senate vote could take place on July 21-23, when the entire chamber is scheduled to meet. If the legislation is approved by the Senate, or if no voting takes place, the bill would then be sent to President Duda for signature.
July 29, 2021 will mark the one-year anniversary of the release US State Department's groundbreaking Justice for Uncompensated Survivors Today (JUST) Act Report, which reflects the importance the U.S. government places on finding a measure of justice for Holocaust victims, survivors, and their heirs.  In 2017, Senators Rubio and Baldwin introduced the JUST Act, which passed unanimously by both houses of Congress.
A key finding of the report states that "Poland, which had the largest European Jewish community before the outbreak of World War II (approximately 3.3 million), also has not yet enacted comprehensive legislation on national property restitution or compensation covering Holocaust confiscations.  This makes Poland the only European Union member state with significant Holocaust-era property issues not to have done so."
The letter can be found here.
The Senators issued a press release about the letter today.
###
For media inquiries please contact pr@wjro.org.il