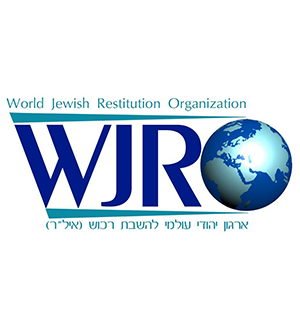 A time to remember, a time to act
Originally published in The Hill on January 27, 2017
by Gideon Taylor
This week, on Jan. 27, people around the world will commemorate International Holocaust Remembrance Day.
Marking the 72nd anniversary of the liberation of Auschwitz, this is an apt and poignant moment, not only to reflect on the murder of more than six million Jews, but also to recall the systematic looting of all of their possessions by the Nazis and their collaborators.
According to the U.S. Senate's Special Committee on Aging, one in four of the over 100,000 Nazi victims in the United States alone are living at or below the poverty line. Restitution can, and surely must, help some of them to live the remainder of their lives with the dignity they deserve.
With remaining Holocaust survivors aging, while many central and Eastern European states continue to struggle with the restitution issue, the pursuit of justice is an urgent race against time.  American leadership now is more important than ever.
As then-Gov. Mike Pence said at a Holocaust commemoration event in 2014:
"We remember what happens when victims cry out for help and no one listens. We remember and pay tribute to the survivors who bore witness to this greatest of crimes.  While we cannot change the past, we are commanded to know the past, so that we can change the future".
With President Trump and a new Congress beginning their work, this day of remembrance provides a crucial opportunity for the United States to reaffirm its leadership in the pursuit of justice for Holocaust survivors and their families.
These survivors, many of whom are Americans, continue to wait for the return of the homes and properties wrongly seized from them, or for some measure of recognition and compensation.
Sadly, Poland in particular, home to 3.3 million Jews before the Holocaust, has not passed a national law addressing private property confiscated by the Nazis or subsequently nationalized by the Communist government.  Much work remains to be done in other countries in Central and Eastern Europe also.
The United States has a long bipartisan record of leadership in supporting and promoting Holocaust restitution. This leadership began as American soldiers liberated Nazi victims and has continued for over 70 years.
In 1998, the U.S. State Department and the U.S. Holocaust Memorial Museum hosted more than 40 governments at the Washington Conference on Holocaust-Era Assets. At this historic conference, Secretary of State Madeleine K. Albright stated:
"We're here to chart a course for finishing the job of returning or providing compensation for stolen Holocaust assets to survivors and the families of Holocaust victims."
In 2001, Deputy Secretary of State Richard Armitage, speaking for the George W. Bush Administration, said The United States was: "…committed to promoting a measure of justice for victims of the Holocaust as an expression of the country's commitment to human rights and human dignity."
In 2009, the Obama administration took a leadership role in the formulation of the Terezin Declaration, which was endorsed by the U.S. and 46 other countries at the conclusion of the Holocaust Assets Conference in Prague.  The participating states urged that "that every effort be made to rectify the consequences of wrongful property seizures, such as confiscations, forced sales and sales under duress of property, which were part of the persecution of these innocent people and groups, the vast majority of whom died heirless."
Congress too has a long history of supporting restitution as a bipartisan issue. A Congressional letter of July 2015 signed by 42 members expressed "strong support for the restitution of Jewish communal, private, and heirless property in Central and Eastern Europe."
The effort to secure Holocaust restitution is also gaining momentum in Europe.  Most recently in November 2016, European Parliament President Martin Schulz endorsed the return of property and possessions unjustly taken from Jewish communities and victims during the Holocaust.
However, there are still major unresolved issues, such as in the case of Poland, meaning many survivors and their families have yet to see justice.
As Secretary of State nominee Rex Tillerson said at his nomination hearing: "Supporting human rights in our foreign policy is a key component of clarifying to a watching world what America stands for."
This International Holocaust Remembrance Day, we respectfully ask the new administration and Congress to take the lead in urging Poland, and other countries in Central and Eastern Europe, to deliver compassion and to bring a small measure of justice for Holocaust survivors and their families.
Gideon Taylor is Chair of Operations of the World Jewish Restitution Organisation, an umbrella body of fourteen major international organizations representing Jews worldwide regarding Holocaust-era restitution issues.
For media inquiries please contact pr@wjro.org.il